If you have a single tooth or multiple teeth that are damaged or decaying, you may need a dental crown. Oftentimes, patients need dental crowns if fillings aren't successful in correcting the issue. At Madison Yards Family Dentistry, we're experienced in evaluating your needs and helping you decide what will be best for your oral health.
We recommend dental crowns for patients who need a low-maintenance, affordable solution for damaged teeth. If you are local to the Atlanta area, the dental team at Madison Yards Dentistry are here to help you with the process of getting dental crowns. We are conveniently located in Atlanta's Grant Park neighborhood near Reynoldstown and Old Fourth Ward.
What Is a Dental Crown?
Dental crowns are precisely what their name suggests—caps, or crowns, that go on top of your tooth to correct damage. The dental crown is expected to enhance your tooth's shape, strength and appearance. The most common options for dental crowns are metal, porcelain fused to metal, and porcelain material.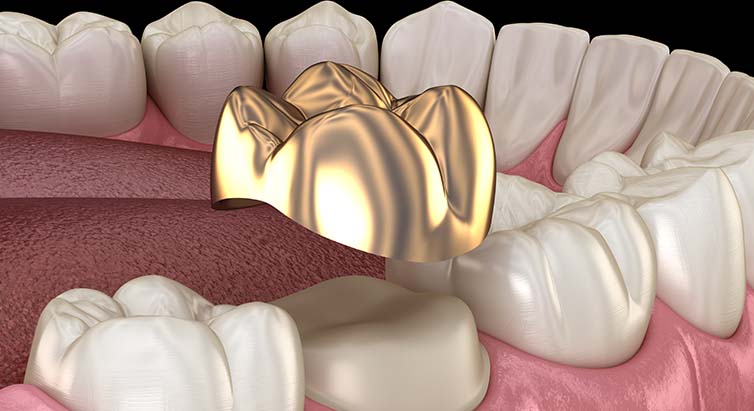 Metal
Dental crowns can be made of metal such as gold, palladium, nickel or chromium. This is the most durable type of dental crown, but it is not often recommended for highly visible teeth.
Dental crown cost can range from $500 – $2,500 per tooth.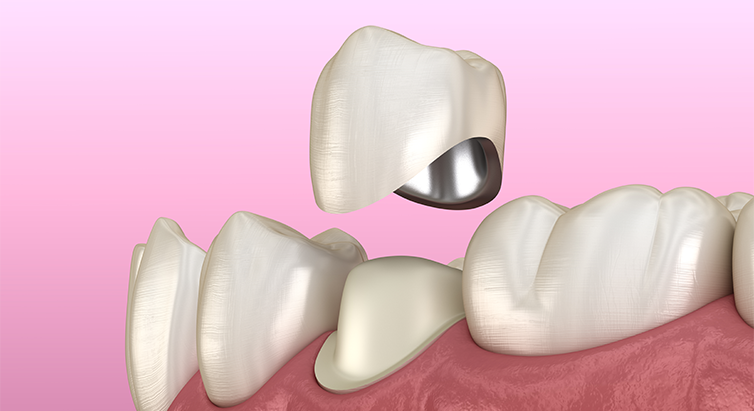 Porcelain-Fused-to-Metal
Similarly, metal crowns covered with porcelain can be a good option for back teeth since they may appear darker than your natural teeth.
Dental crown cost can range from $800 – $1,500 per tooth.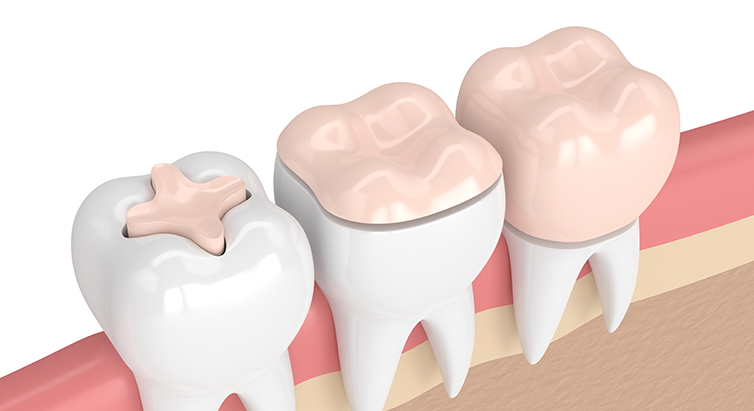 Porcelain
Additionally, ceramic or porcelain crowns are often recommended for highly visible teeth because of their cosmetic and restorative function, though they are also not as strong as metal crowns.

Dental crown cost can range from $800 – $3,000 per tooth.
The Dental Crown Process
It may take up to two visits to the dentist to get your crown in place. During your first visit, your dentist will take X-rays of your tooth and the surrounding bone. If there is any tooth decay, infection or injury present in the tooth, you may need a root canal before your dental crown. During the initial appointment, you'll have time to discuss any questions or concerns with your dentist. Your dentist will develop a customized plan based on location, function and visibility of the tooth along with the position of the gum line and the color of surrounding teeth.
The next step involves filing down your tooth and shaping it to fit the new crown. Lastly, an impression of your tooth will be made so that a laboratory can make the crown within about two weeks. A temporary crown will be put in place in the meantime.
Dental Crown Placement
When your permanent crown is ready, your dentist will start by removing the temporary crown. The fit and color of your new crown will be double-checked before permanent placement. Then, you will be administered a local anesthetic to numb your mouth. Finally, your dentist will cement the dental crown into place.
Post-Placement
If you experience any discomfort or sensitivity in the days following your dental crown placement, don't hesitate to let your dentist know. Your dental crown should last you between 5 and 15 years with no issues. As long as you follow good oral hygiene and limit harmful habits like grinding your teeth or chewing ice, you should not experience chipping or cracking of your dental crown. If you do have these issues, the experts at Madison Yards Dentistry in Atlanta can help.
Make Your Appointment for Dental Crowns in Atlanta
Is a dental crown the right dentistry solution for you? Let us help you decide! Having a consultation with Madison Yards Family Dentistry in Atlanta is your first step to getting your oral health on the right track. Our top rated team is here to make dental care accessible and affordable for you and your family. Get started with us by calling our office at (404) 836-4595 or filling out our online contact form today!